Artificial Grass and your Dog – FAQ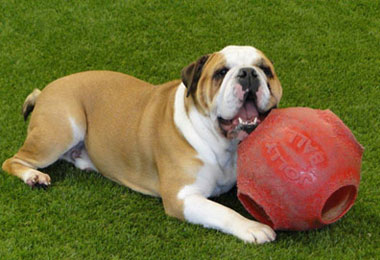 With development of artificial grass technology, more and more people tend to decorate their home with artificial grass. With the time being, people find artificial grass is really suitable for dog, which saves you money and no maintenance is required.
Besides, Muddy spots and dog urine stains are gone. You will find artificial grass can help you maintain a pleasant, safe environment for your pets. In order to enrich the knowledge of artificial grass for dogs, let's see some frequently asked questions about it.
How to handle the urine and waste of dogs?
Artificial grass is similar to natural grass. Only when it tends to be less messy with the artificial grass for dogs, urine washes Waste can be cleaned by running water.
Is it looks like real grass to dogs?
I believe your dogs will absolutely love it. Moreover, they will never find it is just fake for its real soft feeling. Many dogs will avoid pea gravel, cement or sand. Will my dogs dig a hole through the artificial grass?
Many dogs like dig holes through anything. But do not worry about it since our artificial grass for dogs are special designed and made of tough materials that are durable and resistible.
Is there any way to remove dog hair from artificial grass?
You can remove the dog hair from artificial grass by saturating it with water and a soft bristled push broom, then brushing with the grain of the fibers. Holding the push broom snug against your belt, start at one end and walk the broom to the opposite side, which should remove most of the hair.
Can I install my own artificial grass for dogs?
Many homeowners make decision to install artificial grass for dogs by themselves. Also, you can ask the supplier of artificial grass to install it. Even there are many directions on website and you can Google it on the internet.