CCGrass Pitch Provides More Goals for a Better Life in Bogota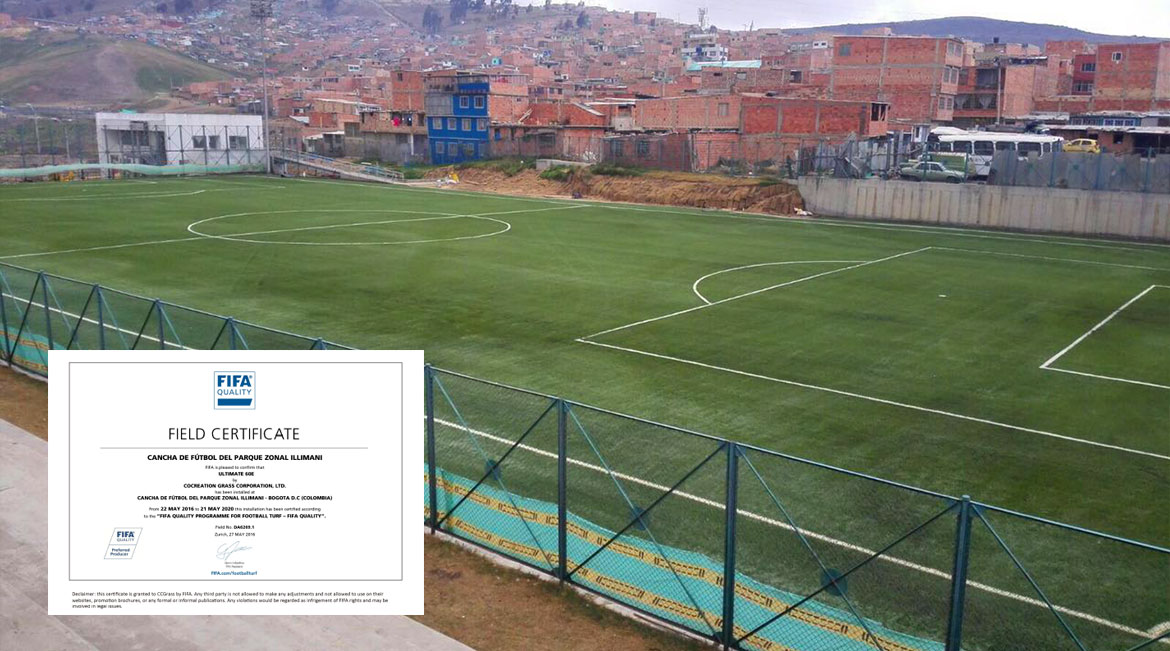 The popularity of football in South America can never be underestimated, and so also its potential power for change. Hand at risk children the opportunity to play football 24 hours a day and they will grasp it, staying out of trouble in the process.
This is the premise behind the "Goals for a Better Life" program from Colombianitos, a nonprofit organisation that improves the quality of life of children, youth and their communities through sports, recreation, education and health. Colombianitos works with 5,500 children in ten communities of Colombia.
Ciudad Bolívar is the 19th locality in the Capital District of Bogotá and home to thousands of people displaced by violence from across Columbia. Within its boundaries, Illimani is one of the poorest and most densely populated areas. Until Colombianitos' arrival in 2002, children played with no aim while youths became delinquent, disillusioned and worse.
Colombianitos' "Goals for a Better Life" program provides football training and supports and motivates the integration of education as a fundamental part of the overall program, meaning children can acquire an education and build strong values and life skills, becoming healthy, productive individuals. Through these children, Colombianitos programs help transform vulnerable communities.
The passion children have for football is what gets them involved. Football is transformed into a tool that is used to teach children values. Keeping children attending school, and using their spare time wisely by attending football training and other activities provided by "Goals for a Better Life", distances them from the dangers exhibited on the street.
Fast forward to today, and Parque Zonal illimani is the focal point of the community that has a football pitch as its core. Part of the secret for success was a social management initiative carried out during construction of the 42,466 square metre park aimed at seeking community participation in its appropriation.
Most recently, CCGrass won the contract to replace the artificial grass on the pitch. The type of turf chosen was Ultrasport™, a most durable product with 16,000 Dtex duotone monofilaments. The yarn successfully combines softness and durability. Simulations prove that Ultrasport™ remains complete after 50,000 cycles of the Lisport rolling test.
Last month, the Parque Zonal Illimani football pitch was awarded FIFA Quality Certification by the international football governing body. Thanks to the pitch and its new certification as well as initiatives such as Colombianitos, more than 630 Illimani children have a better chance at following their dreams for a better quality of life.