HWC – The Homeless World Cup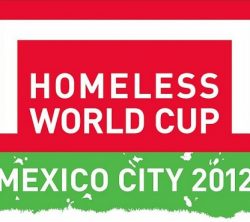 HELP HOMELESS PEOPLE
BACK TO HAPPY LIVES

As Official Pitch Surface Supplier for the Mexico City 2012 Homeless World Cup, CCGrass will contribute to a fantastic, globally-recognised event and support the Homeless World Cup Foundation in using football to energise homeless people to change their own lives.
HELP HOMELESS PEOPLE, BACK TO HAPPY LIVES!
HWC—The Homeless World Cup is, a football tournament organized by the Homeless World Cup organization, a social organization which advocates the end of homelessness through the sport of football. As a global charity event, every year HWC puts together 250,000 players from 70 different nations to enjoy the fun of football and change life together.
To our delight, CCGrass heard that Homeless World Cup would hold the 10th annual tournament in Mexico. And CCGrass find artificial grass is really suitable for this tournament and couldn't wait getting involved in this activity. CCGrass considers this public benefit activity could help lots of homeless people find a way to make themselves confident, got a job, leaving from the bad lives, it is same as the goal of CCGrass.
So CCGrass established the contact with the tournament director – Federico and sponsored 5 pitches in total. The competition turned out to be very successful. HWC official department sent us a video contains the players, the coaches, the referees and audiences, and they are enjoy the tournament, and all these made us so proud. This Mexico tournament was such an amazing show to the whole world. The players are very dedicated and enthusiastic. Telmex and Nike are the two major sponsors. More than hundreds of media reported this game, like New Yorks Times, CBS news, Press TV ,CNN and so on. Mountainous of Facebook members had heated discussions on HWC Mexico…… After this tournament successfully finished, the founder – Mel Young wrote a recommendation letter to us and expressed his sincere gratitude. His confirmation was the best encouragement to CCGrass. Due to sponsored HWC in Mexico very successfully, CCGrass will find more chances to cooperate with HWC organization, and help more homeless people to find their own happy lives.